You cannot deny the fact that most of the great entertaining contents are now on the web and not on TV. Many of us already have given up on TV since they are bored with the same movies that TV channel telecasts most of the time. However many companies have understood the audience mindset have launched too many tools and apps that completely replace the TV. Just to use all these tools and app all you need is a good internet connection. For example, Google has launched a device called the Chromecast, Amazon also has launched a device called the Amazon firestick. Well to use a Chromecast or the firestick you have to plug in the device into the HDMI port of your TV and you are all set. These type of devices comes with web series, Indian and international movies and so on. Even there are smart TVs that let you connect your TV with internet connection. And if the smart TV comes preloaded with any app for movies or web series you can watch them from there. However, if you are planning to get quality entertainment apps that support smart TV as well have an app for smartphone here are some of the companies you can check:
7 Apps that let you browse awesome video contents: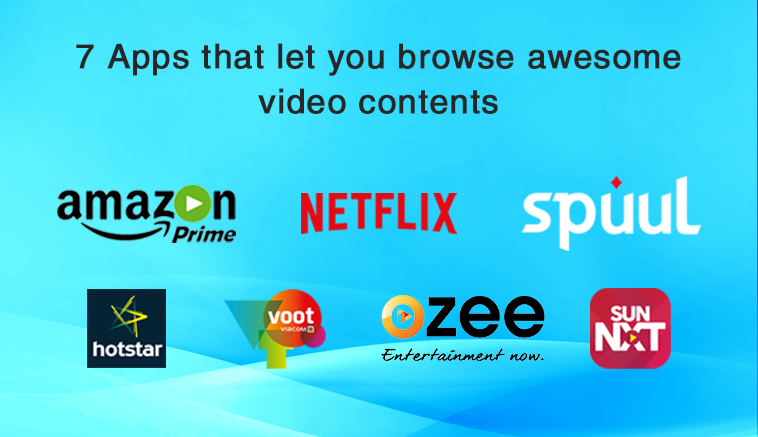 Hotstar:
Hotstar is an Indian company where you can watch TV shows for free and as well with a paid subscription. Hotstar even lets you stream live cricket and football matches for free. Even most of the Indian TV shows and movies on Hotstar are free. However talking about the international shows and movies you have to switch to Hotstar premium. The hotstar premium will cost you 199 INR per month. As well for new customers, the first month will be free.
Amazon prime video:
Amazon prime is a new player in the video content business. On Amazon prime video you can browse Indian movies, International movies as well you will get some Amazon original shows. However, to get the Amazon Prime video subscription, you have to purchase Amazon Prime subscription for 499 INR per year but soon they will sell the subscription for 999 INR per year.
Netflix:
Netflix is one of the old players in video content business. They mainly offer Netflix originals shows including 13 Reasons Why, Narcos and so on. Also, you will be able to watch Indian and International movies.Talking about the pricing, Netflix monthly basic subscriptions start at 500 INR. The standard plan is priced at 650 INR and the Premium plan will cost you 800 INR. All the plans come with the different feature but whatever plan you choose the first month will be free.
Spuul:
If you love Indian movies and want to watch them online Spuul is for you. The video streaming platform is dedicated to Indian movies. You can browse old movies, new movies, Malayalam movies and so on. Spuul lets you rent movies for 150 INR, also have some free movies. As well you can get a premium subscription for 150 INR monthly or 1500 INR yearly.
Voot:
If you want to watch Indian TV shows online as well some Indian web series Voot is for you. The platform is completely free and you can watch Indian tv shows, Voot original shows, Cartoons, and Movies.
Zee Entertainment:
If you love watching Indian daily soaps especially zee networks shows then the Zee Entertainment network is perfect for you. The platform lets you watch Zee Tv shows for free.
Sunnext:
Sunnext is a smartphone app. The app contains south Indian tv contents. You can watch Live TV, Movies, Kids Shows, News, Comedy Clips, Catch-up, Video on Demand (VOD), Originals, Music and so on. The app lets you browse contents in 4 languages Tamil, Telugu, Malayalam, and Kannada also its free. Subscription is 50 INR per month.
Conclusion: All the apps mentioned above have awesome shows that most of the users love to hook on. However before getting a paid subscription make sure you have checked all the offers that the company is providing.